Most people don't realize the plethora of things to do while in San Antonio. Besides visiting us, one can walk the River Walk, dine at fabulous restaurants, hang with Eva and Tony, say "hi" to Shamu at Sea World, or scare the crap out of oneself at Fiesta Texas. While Nate and I have dappled in almost each of these things (Eva and Tony are practically neighbors you know) the one thing I hadn't done was confirm my fear of heights at
Six Flags Fiesta Texas
!
I convinced fellow roller coaster connoisseur, Brenda, to join me at the park before the kids were released for the summer (a very, very smart idea). We got to the park nice and early, waited in line, and were finally greeted by the smell of stale popcorn, hundreds of seniors in high school (school may have been in session, but apparently Fiesta Texas is the place to have your senior day), and a sea of workers in electric green shirts.
Brenda and I knew what was going on. We had a map and we had a plan. Our first adventure was on the Boomerang. This is one ride I do NOT recommend (esp. if you are prone to motion sickness like me). We were the brave two in the front of the car. We were slowly pulled up where we were then shot down, sped upside down and back up on the other side. By this time I'm thinking I'm pretty awesome. I've conquered my fear of heights and hadn't thrown up. That's where the nightmare began. As we reached the top of the track, we were shot
backwards
through the very same track on which we had come. The Boomerang is not the best ride to start out on.
Note
: Brenda wondered why anyone afraid of heights would want to go on roller coasters. "Hello," I said. "That's the fun of it."
We rode some more rides, sweet talked a park worker (electric green shirt) into letting us leave our bags in the locker all day, and ate some nasty park food, but my favorite ride of the day was "The Rattler." The Rattler is one of those old, rickety wooden coasters that is nearly 2 miles long! We waited in line (not too long luckily) under the huge (hopefully fake) rattlesnake.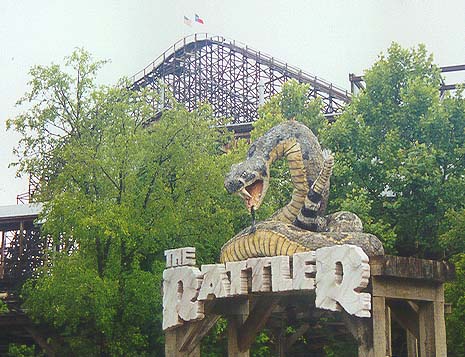 We finally climbed into the seat where Brenda informed me it would be in my best interest to hold my arms in the air. Crazy Brenda, I thought. But I did it anyway. We inched slowly up to the top of the old wooden track. We saw our place of work and waved ("hey guys")! Very slowly ('cause that's how the whole up hill thing works on those wooden coasters) we reached the top. "Arms up!" Brenda commanded me. She can be kind of bossy. We swooped over the peak of the track and screamed as we went down the other side. Was it as high as the Goliath? No. As motion sick inducing as the Boomerang? No. Did it look like we were going to slam into the ground like on Superman? No, but as we flew down the other side, I realized why my good sense had told me to hang onto the bar. I wished I had listened. Brenda's and my arms and heads became instantly intangled with each other, tears flying up the sides of our heads from the wind. The speed at which we were traveling was so fast I was unable to pull my arms back down to brace myself against the thrashing. As we were whipped around twist after turn I was barely able to make out Brenda shouting, "thiiiiiis iiiiissss whyyyyy theeeeyyyy caaaaallll iiiittt theeee raaattttttllleeerrrr (this is why they call it the rattler). That pretty much summed it up. It is definitely "The Rattler."
There are many roller coasters and even more carnival type rides at Fiesta Texas. They even have one of those booths where someone has to guess your age. Brenda thought I could definitely win that one. We had a fun time and ate some Phish Food ice cream (Brenda had never had it)! I will definitely be going back but maybe no Boomerang next time!
You can see the poor people about to be shot backwards on the Boomerang in this picture.